Saint John Eudes
August 19th is the feast of St. John, or Jean, Eudes, one of the earliest promoters of devotion to both the Sacred Heart of Our Lord, and the Immaculate Heart of Our Blessed Lady, as well as devotion to the Two Hearts.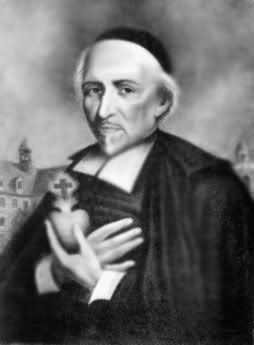 St. John wrote both an Office of the Sacred Heart, and a Mass of the Sacred Heart.
The Collect from that Mass is here:
Father of mercies and God of all consolation, Thou gavest to us the loving Heart of Thine own beloved Son, because of the boundless love by which Thou hast loved us, which no tongue can describe. May we render Thee a love that is perfect with hearts made one with His. Grant, we pray, that our hearts may be brought to perfect unity: each heart with the other and all hearts with the Heart of Jesus....and may the rightful yearnings of our hearts find fulfillment through Him: Our Lord Jesus Christ, Thy Son, who lives and reigns with Thee in unity of the Holy Ghost, one God, forever and ever.
Amen.
A short biography from the Catholic Encyclopedia is here
. Note that Saint John was canonized in 1925, after publication of the Catholicy Encyclopedia, which refers to him as "Blessed."
His books on the Two Hearts are ground-breaking in fostering this devotion.
The Admirable Heart of Mary the Mother of God
I have been serializing here (and temporarily stopped due to temporary unavailability of the book). He completed the book just a month before his death. His earlier work,
The Devotion To the Sacred Heart of Jesus
is equally hailed by the faithful.
He is the founder of the Eudist Fathers
. They are more formally known as the
Society of Jesus and Mary.